Women's Empowerment Group Lakewood, CO
Present Not Perfect: A Women's Self-Empowerment Group
If you are searching for a women's empowerment group to support you on your journey of self-discovery as well as to encourage and inspire you towards greater self-awareness and confidence this group is what you are looking for.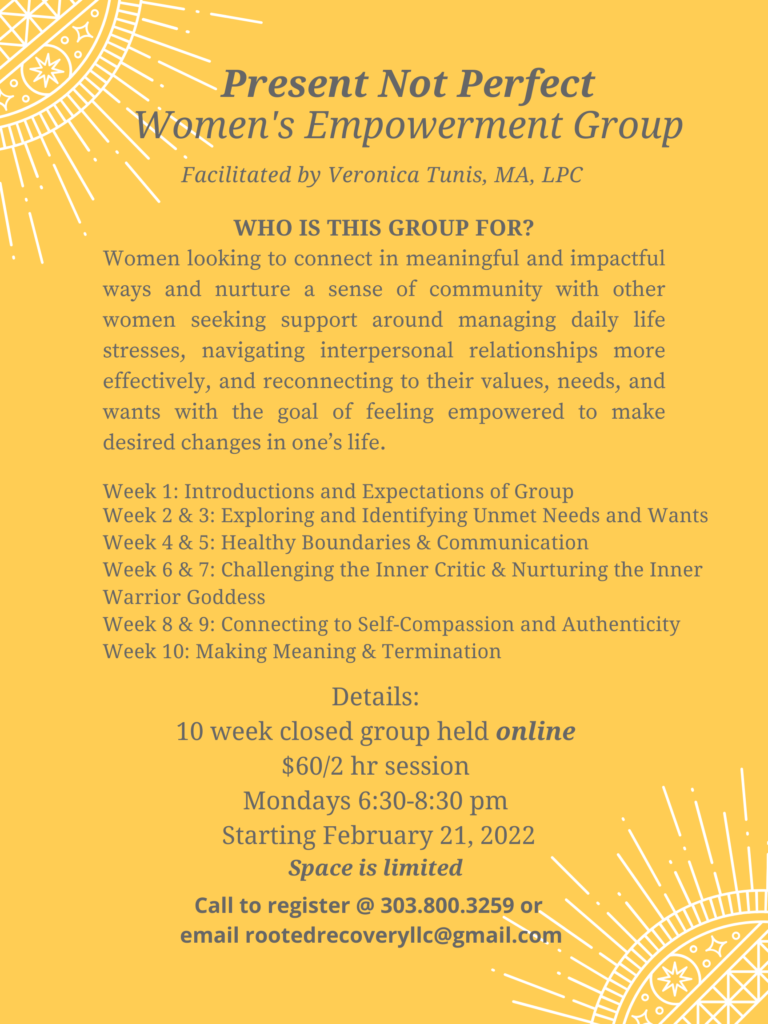 Here is what you can expect when you join this women's support group:
Establish new, creative, and fun rituals for self-care
Become empowered to make healthy changes in your life
Build meaningful connections with other women
Increase self confidence
Gain self-reliance
Learn skills and strategies to create more satisfying and enriched relationships
Gain clarity around your own needs and wants
Restore balance and refocus on what's important to you
Still wondering if this group might be a good fit for you?
This is an ideal support group for women experiencing life transitions, women wanting additional support around life changes they are working on, women in recovery, women looking to build meaningful connections with others while on their own journey of personal growth and change, women seeking new, different and fun ways of nurturing themselves.
Additional Details:
This is a 10-week closed group. The group runs year round.
Currently the group is being offered on Mondays from 6:30-8:30 pm.
The next group open for registration: February 21, 2022.
Group size: minimum 3, maximum 6 women. 
This group is currently only offered online.
Investment: $60 weekly for each session, discount offered when group is paid for in advance at first session.  
Call 303-800-3259 or email root[email protected] for more information on how to register!